TE's 13th Birthday Release!
Hi folks,
TE has a new birthday themed release filled with so many creative products (and of course critters!). I have three new projects to share with you today so let's get started...
My first card uses the new Chip and Charlie critter stamp set. I first started off by stamping and coloring the image along with images from Bitty Borders for the treats and presents. Then, I created my background by ink blending Jelly Donut, Lollipop, Candy Corn and Pineapple dye inks. For the tree and grass, I used Birch Tree Border die (Chocolate Truffle cardstock), Build a Scene Rolling Clouds (Cilantro cardstock) and a strip of Lime Zest cardstock. As always, I ink blended the edges using matching dye ink and splattered some paint to make it a bit more dimensional. Finally, I heat embossed sentiments using the new Get the Word Out - Celebrate (Lollipop cardstock) and Mini Strips Birthday (Cookie Monster cardstock).
Supply List: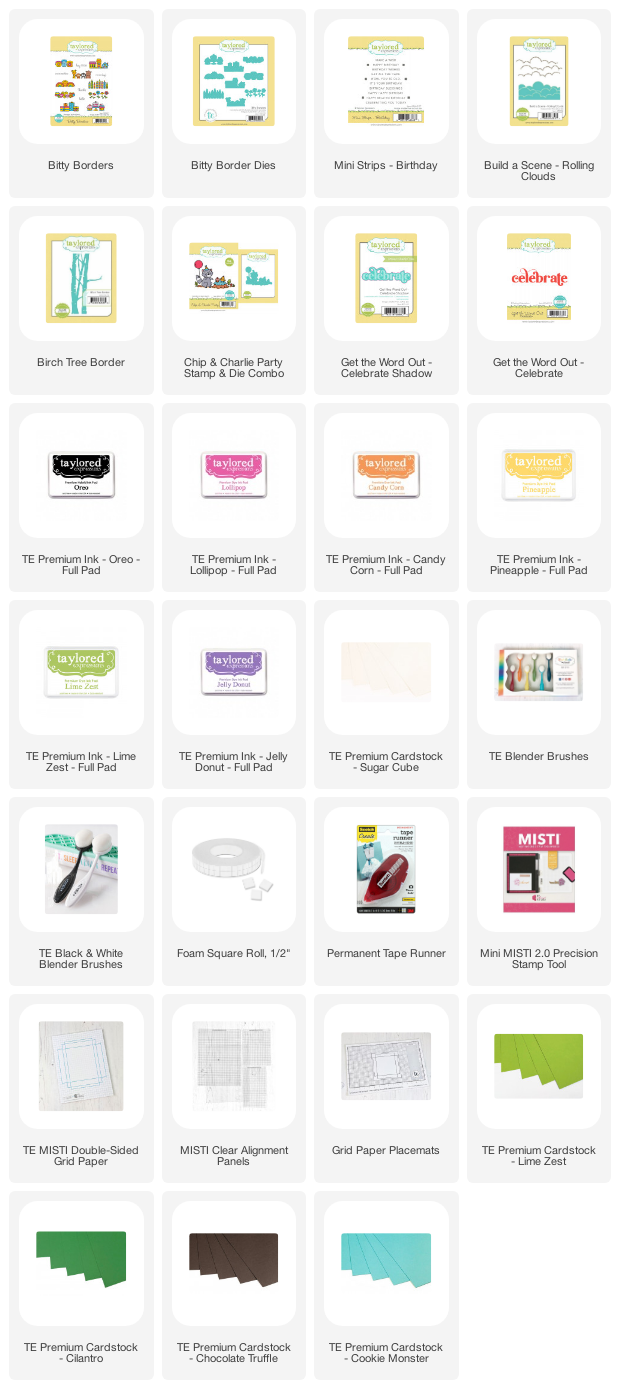 You must have already seen my next project as a part of TE's Birthday Auction and Challenge. I absolutely love how this card turned out! I first started off by creating a striped background using 1/4" strips of Lollipop, Granny Smith, Pineapple, Candy Corn and Cookie Monster cardstock. For the center portion of the card I created a border using Petite Scallop Rectangles die and buttercream cardstock and ink blended the inner rectangle using Blueberry, Cookie Monster and Mint Julep dye inks. As always, I splattered some paint! I then heat embossed 'Celebrate' using Fill in the Blank - Birthday and filled it in using a cute Millie from Millie's Birthday Bash and surrounded it with Cupcakes stenciled using the new Sweet Shoppe Stencil set and Peaches and Cream, Cookie Monster, Jelly Donut, Candy Corn and Lollipop dye inks. Finally, I added a sentiment from On Repeat - Birthday and lollipop cardstock to finish off my card :)
Supply List: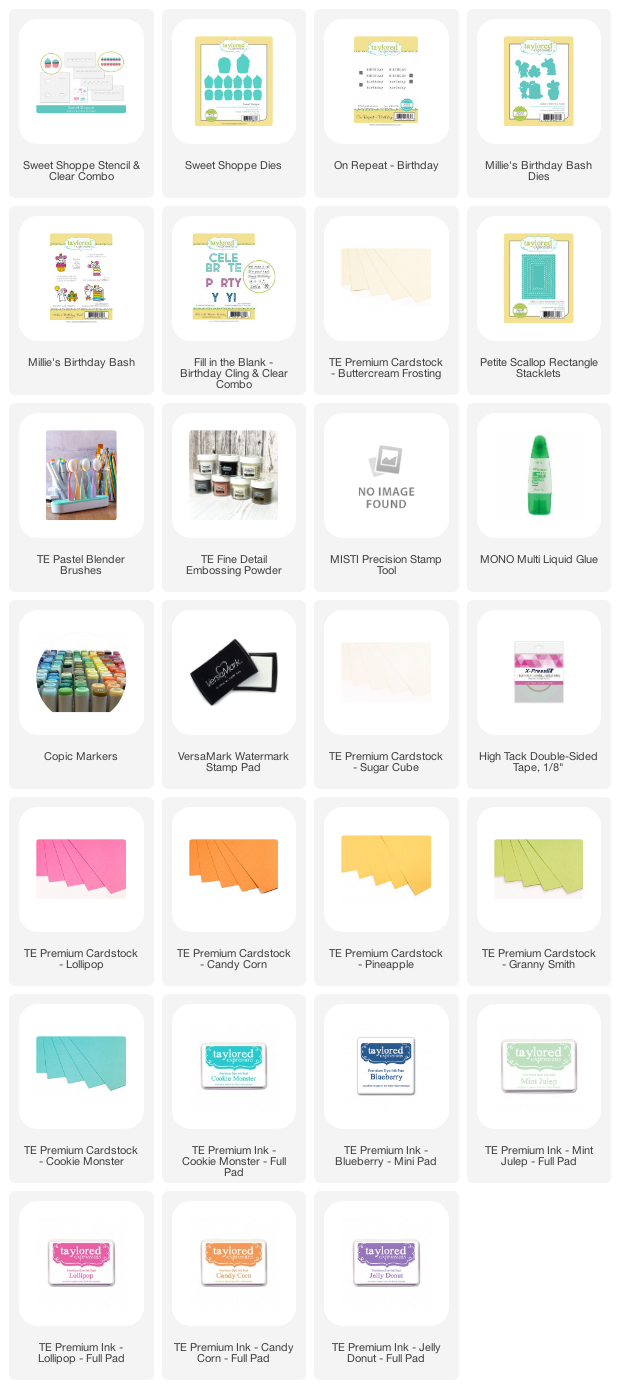 My final project uses the new Present Treat Wrap die. I first started off by die cutting the treat wrap using sugar cube cardstock and ink blended it using my go to rainbow colors - Jelly Donut, Lollipop, Candy Corn, Confetti Cake, Granny Smith and Pineapple. I then added a sentiment using Itty Bitty Sentiments and Tags using Blue Raspberry ink. I wanted it to hold two mini Kit Kats so I added two strips of cardstock on the sides to create a holder. For the Reese's wrap, I added some left over cupcakes from my previous projects to the center of a Circle Window Frame die. That's it!
Supply List: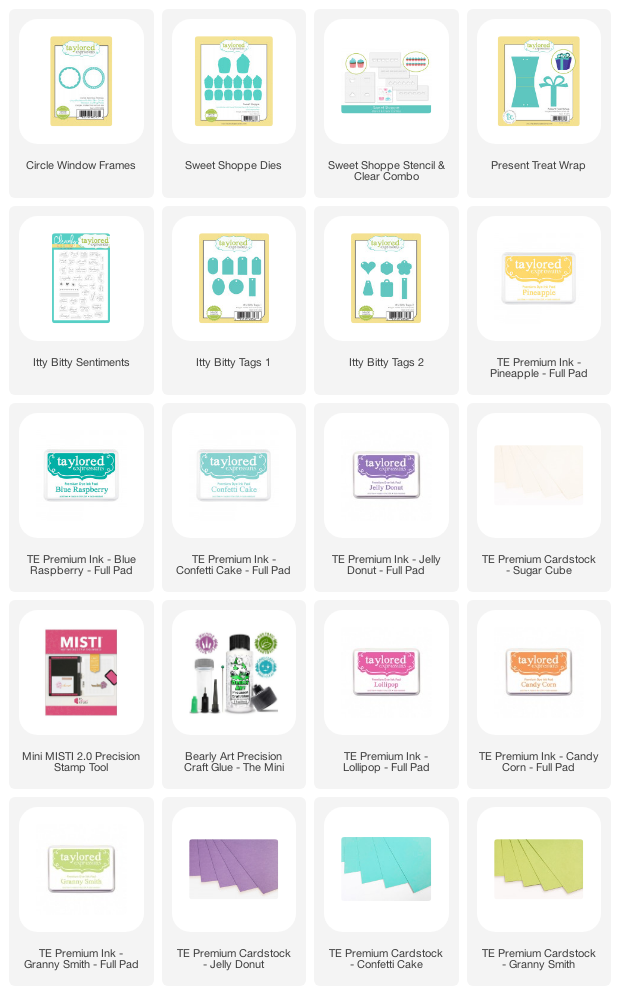 That's it folks! Hope you liked this fun release :)
Happy Crafting,
Kavya