Celebrate the Holidays with TE!
Hi folks,
I am back with another fun TE release! This one is the biggest of the year and it's super adorable (I know I say that for EVERY release but TE hasn't disappointed me yet!). I have three totally different projects to share with you all and every single one of them shows you a fun way to stretch your stash so let's get started!
My first card is a fun nativity themed card. This card isn't exactly slimline or A2 as I trimmed the edges of an A2 sized card as I felt an A2 sized card had a bit too much 'white space' for my liking. Feel free to stick to an A2 sized card if you like that! I first started off by ink blending the festive fir using Cilantro and Granny Smith inks for the leaves and Pineapple and Honey for the stars. Then, I ink blended the edges using Blue Corn, Blueberry, Pineapple and Candy Corn dye inks. The green portion of the background was just the pineapple and blueberry ink mixed together :) Then I splattered some white paint and added some sparkles using a white gel pen. Later, I die cut some Jelly Donut cardstock using Arched Nativity Cutting Plate (trimmed the top half and I only used the bottom!) and used two concentric Arched Stacklets to create an arch. I ink blended the edges of both using Jelly Donut and Eggplant and splattered watered down white paint to make it a bit more dimensional. Finally, I heat embossed a sentiment from Modern Holiday Greetings to finish it off!
Supply List: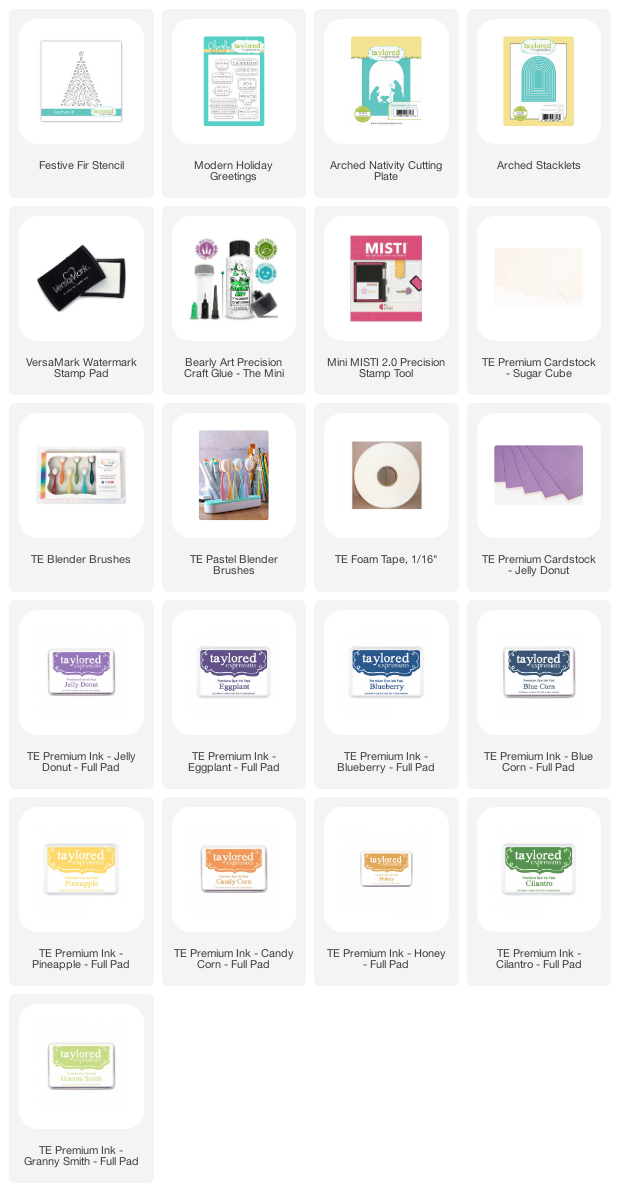 My next card uses a bunch of new products from the release. I first started off by creating a fun Christmas themed background using the new Create in Quad: Mistletoe stencil on Watermelon cardstock using Guava, Fruit Punch and Sugar Cube inks. As the stenciled background is a bit smaller than A2, I ink blended the edges using Watermelon to make it seem seamless. I then splattered some white paint and added details using a white gel pen. Then, I used the two Heart Stacklet and gold glitter cardstock to create a heart frame. For the large mittens, I ink blended them using Cozy Winter stencil and Granny Smith, Lime Zest and Honey inks. I the heat embossed a nordic star in the center and added more details using a white gel pen. For the mitten string, I found some embroidery floss that matched TE's honey color and braided it and turned the ends to tassels. Then, I arranged the mittens to make it seem like they are hugging the heart and finished off my card by adding a sentiment from Merry & Bright heat embossed on Mulled Wine cardstock.
Supply List: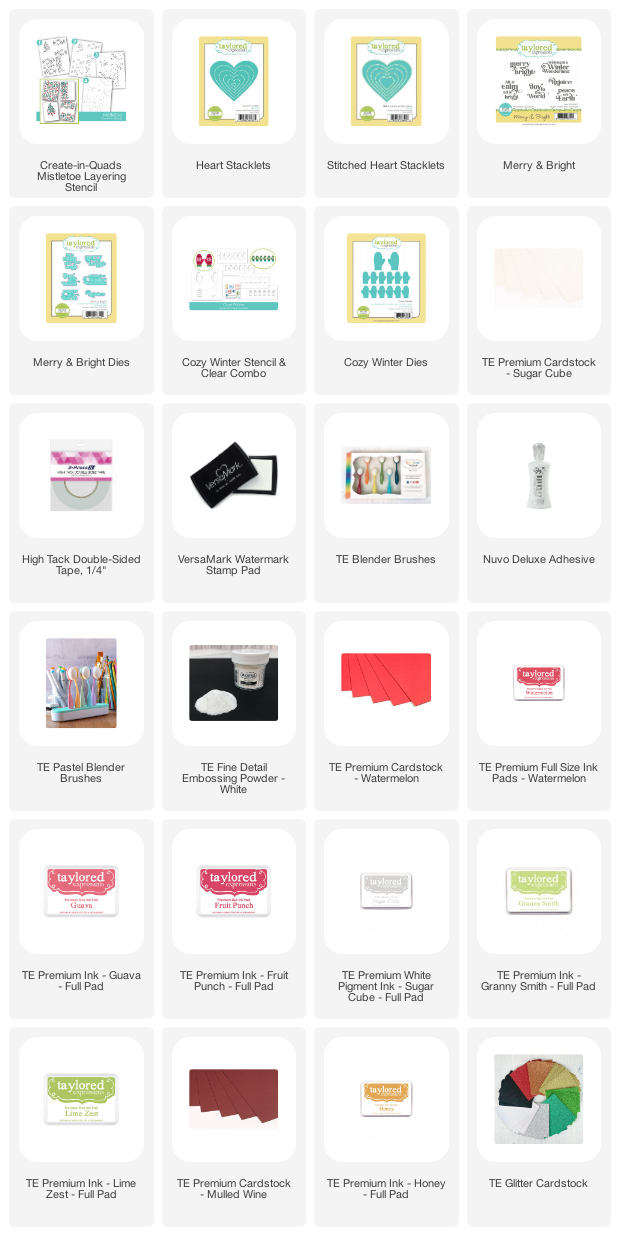 My last card is another one of word play cards! I first started off by ink blended the edges of Mushroom cardstock using Oreo dye ink and stamped the Twinkle Background using Sugar Cube ink. Then, I stamped and colored multiple images from Little Critters - Christmas using copic markers. I then die cut the 'Fa La La's...' using Cap It Off Alpha and Lollipop, Watermelon, Granny Smith and Cilantro cardstock. I colored the outlines using alcohol markers to make a it a bit darker! Then, I added a thin Oreo Frame and arranged all the letters and critters on my panel. I then heat embossed and added multiple sentiments from Just Saying - Christmas to finish off my card!
Supply List: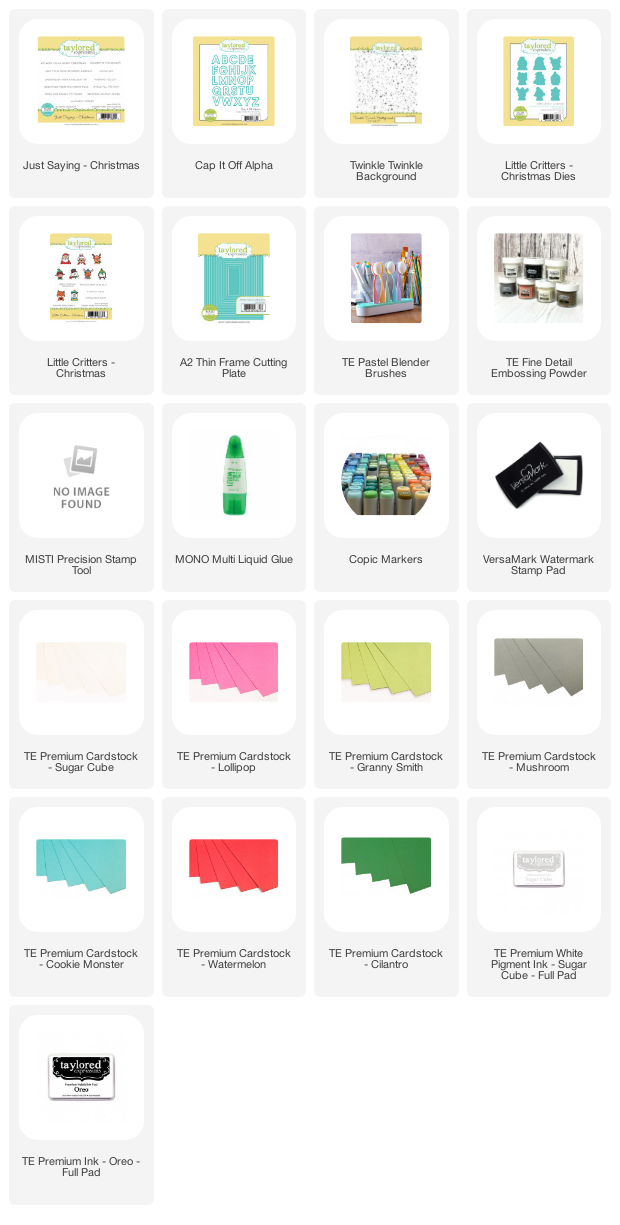 That's it folks! I hope you liked this release!
Happy Crafting,
Kavya