New Stencil themed release from TE!
Hi folks,
Taylored Expressions has a new stencil themed release that goes hand in hand with the previously released masking stencils. I don't use stencils that often but I had a blast trying to combine them with my usual style...Let's get started!
My first card uses the Diagonal Stitch Square stacklets. I first used the large 4 dies to die cut the edges of the card to create a nordic look. I then stamped the Wood plank background on Mushroom cardstock and ink blended the edges using Mushroom and Oreo ink. I also added some paint splatters to make it look more like wood. Then. I used the 2 small square dies to create my center piece. I stamped a sentiment from the Diamond Botanical stamp set and also fuzzy cut the floral elements from the same stamp set so that it surrounds the large square die! Another fun way to stretch those supplies!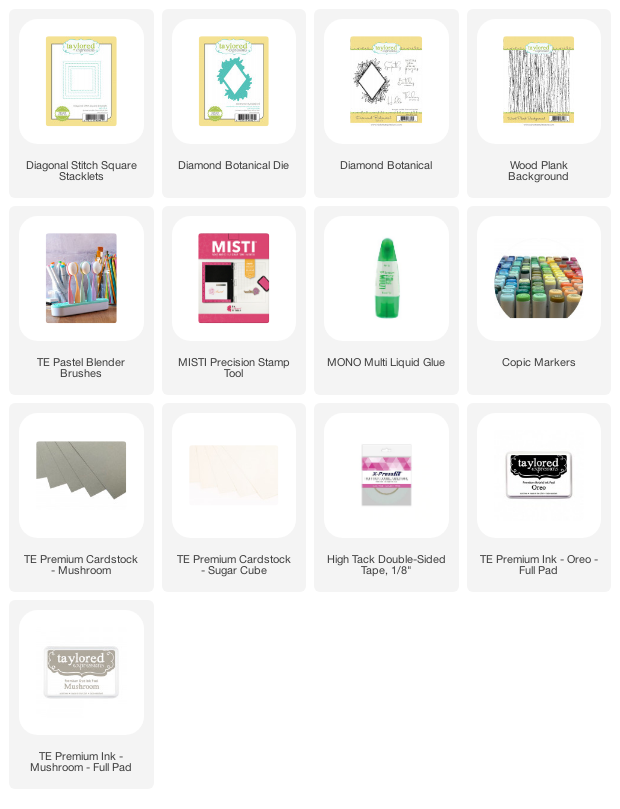 My next card uses the Oval Scalloped and Oval Masking Stencils. I first started off by diecutting Buttercream cardstock using the Leafy Vine cover plate die. I then masked the center of another buttercream cardstock using Pinepple dye ink and Oval Scalloped masking stencil. I then ink blended the center of the die cut cardstock using Pineapple and Candy Corn dye ink using the Oval masking stencil. Then, I simply layered the two and added the word 'Love" diecut using the Cap it Off Alpha dies. Then, I simply added a sentiment from 'Building blocks: Love' to finish it off :)
Supply List: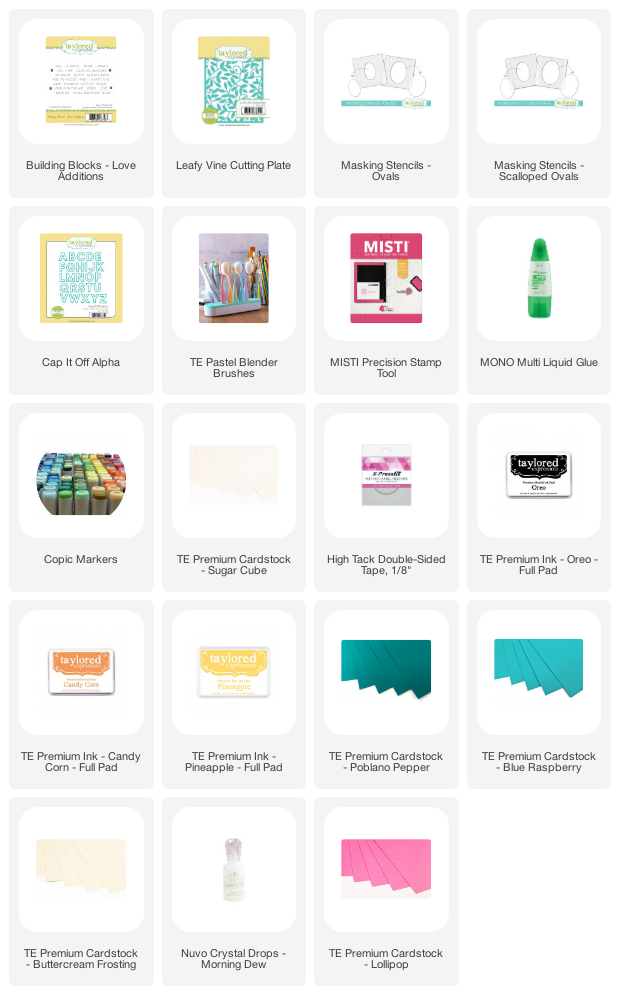 My next card is a cute critter card where Millie and Max make a quick appearance! I first ink blended the squares using the Square masking stencil, Lollipop and Jelly Donut inks. I then ink blended the scalloped squares using Pink Champagne! As always, I added some paint splatters! Then, I simply added critters from 'Love from Max and Millie' and used a sentiment from the same set :)
Supply List: