Get Abstract with Taylored Expressions!
Hey folks,
I am back to feature another fun kit from Taylored Expressions! I am a HUGE fan of endless possibilities especially with craft supplies. I always look for versatile products and this new kit from TE didn't disappoint me! There is no WAY someone might make the same card as you unless you are intentionally trying to CASE it... Now, isn't that amazing? That's the ultimate selling point of this kit! Still not convinced? Let me show you some cards that you could make....
My first card might seem complicated but it is actually quite simple (but might take a while). I took a few photos to show you how to make it step by step coz pictures say a thousand words! By using the stencil and matching masking portion of the stencil, I was able to 'layer' the abstract shapes quite easily... Bitty Blending brushes definitely come in handy when you are working with this kit. I also used it to heat emboss the clear stamps and finally added more details using a white gel pen!
Supply List: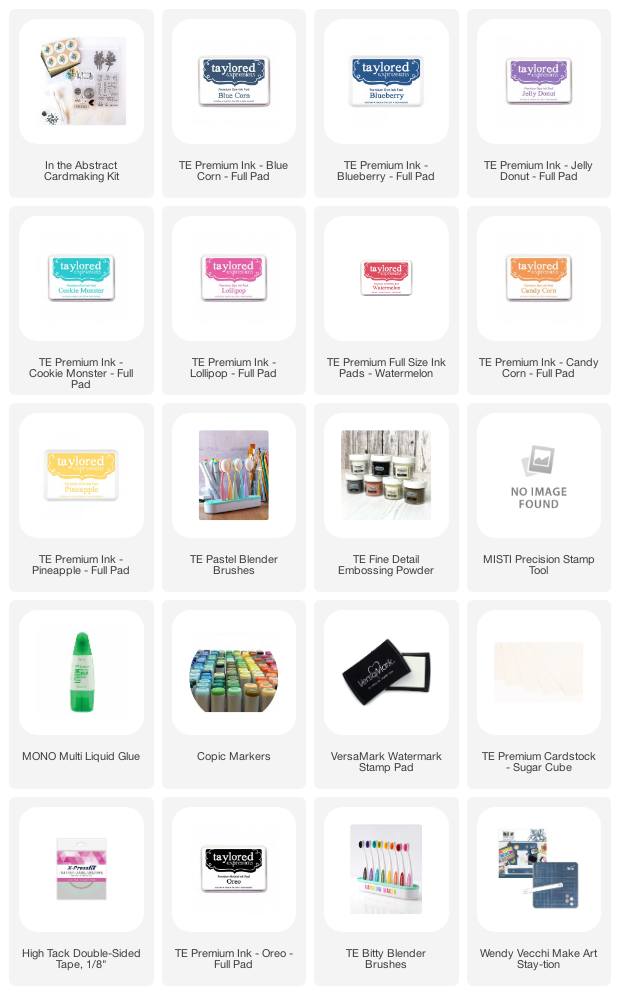 My second card uses the Subtle Sprigs Die to create a bold foliage look. I simply die cut multiple leaves using Pineapple, Poblano Pepper, Blueberry and Lollipop cardstock. I then used the diecut inlay technique and some Diecut'N Bond to hold the inside portion of each leaf (is there a technical term for this part?? I am blanking lol!). If you aren't lazy like me, you can use darker colored cardstock and diecut the leaves again for this part. I simply used my copic markers to color them a shade darker. Then, I just arranged them on a piece of Bluecorn cardstock ink blended with Oreo at the bottom so that the colors stand out. Feel free to cut the leaves short from the top so that they seem like that they are 'peeking' from the behind! I also splattered some blue and white paint to make the background more dramatic... Finally, heat emboss a sentiment and you are done!
Supply List: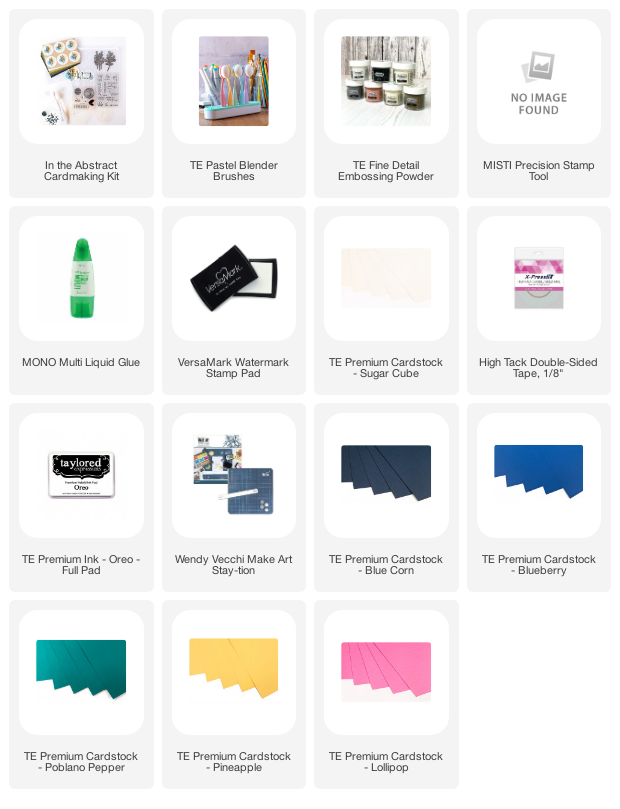 Here's everything included in the In the Abstract Kit – which is available for $72:
Abstract Accents Stencil & Clear Stamp Combo set

Bitty Blender Brushes – set of 2

Subtle Sprigs die collection

Clearly Crafty Beautiful Soul stamp set

Bits & Pieces – Black Rhinestones

6 A2 Envelopes: 1 each of Toffee, Poppy Seed, Sweet Basil, Avocado, Salt Water Taffy, and Oreo

Packaged in a zippered pouch with a custom kit label
Limited quantity available. Most items are not available to purchase individually.