More mini slimline love from Taylored Expressions!
If you have been following me for a while, you know how much I love slimlines and mini slimlines! I find the size perfect for scene building and I feel less intimidated. Taylored Expressions has some new products that are sure to up your slimline game!
As always, I have a bunch of cards that combine all of the products from this release in a fun colorful way!
My first card is a rainbow shaker card inspired by Noriko, a fellow DT member. Noriko made this gorgeous rainbow shaker card and I just had to make one! I first started off by using die cutting multiple Mini Slimline Diagonal Stripe die cuts using Sugar Cube so that I can layer them for the shaker card base. I then used Cherry Pop, Candy Corn, Lemon Meringue, Granny Smith, Cookie Monster, Lollipop and Jelly Donut for the stripe openings. I then filled it with Snow flurries for the shaker bits. I finished it off by adding a line of cute adorable rainbow critters from the new Little Critters set and a sentiment from the Just Saying stamp
Supply List: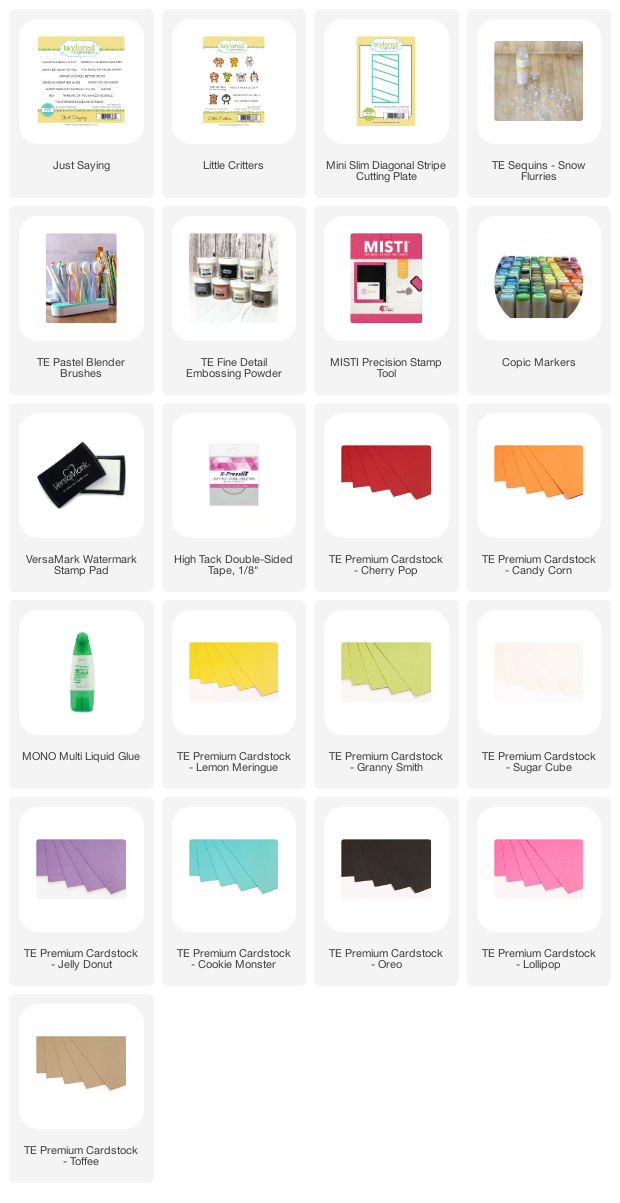 My second uses some scraps from my first card to a make the background. Each strip was about 1/4" in width. I then placed the newly released Mini Slim Square Window cutting plate in Sea Salt on top. I filled the windows with cute critters from Little Critters and added the the alphabets H, B and D from Cap It Off Alpha. I finished it off by adding a sentiment from Just saying stamp set!
Supply List: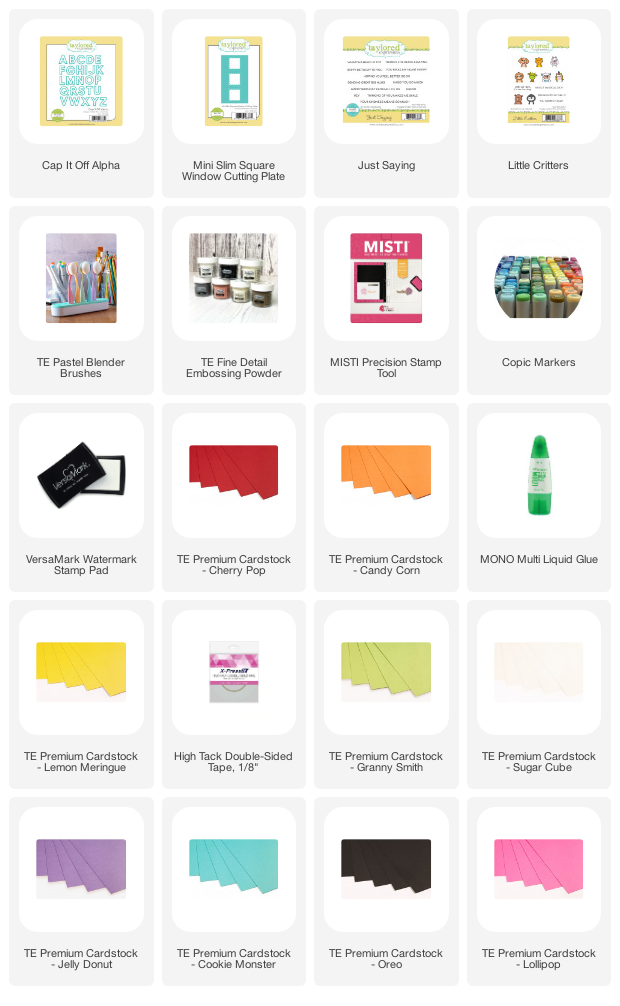 My final card uses the newly released Hexagon trifold template. I started off by ink blending the top half of the cardstock using Pink Champagne, Candy Corn, Pineapple, Granny Smith and Cookie Monster. I then used the template to die cut the hexagons. I filled the window with little critters and added the large 'Hugs' using the Cap It Off Alpha die set and an embossed sentiment on Jelly Donut cardstock. Fun tip: Add tiny strips of magnet to your tri fold card so that it closes!
Supply List:
January 26th through Sunday, January 31st (or while supplies last), you can get the Little Critters Mini Slim Bundle for 15% off! The bundle includes the Little Critters stamp set, the Just Saying stamp set, and the Mini Slim Square Window Cutting Plate die.
The discounted bundle price is only available through Sunday, January 31st.